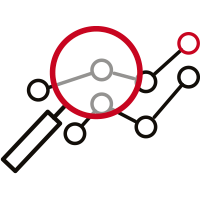 Analyze your competition and product positioning in seconds
Know where you stand in the market to better position your products locally and internationally, plan your discounts, and create the right assortments.
Watch the video
Leverage accurate and real-time pricing data
Receive real‑time notifications and track in your competitors' pricing to optimize and adjust your strategy in response.
Watch the video
Gain insights into your competitors' collections
Monitor their assortments, sizing and individual product characteristics to identify gaps in your collections and new trend opportunities.
Watch the video
Fueling your market analysis with actionable data, Retviews empowers you to implement the best retail strategy for your brand
Optimized profitability
Prevent unnecessary markdowns by giving consumers exactly what they want at the right price.
Increased speed to market
Reduce the amount of time spent on benchmarking by 70% via automation and leverage actionable data right away.
A high sell-through rate
Adapt quickly to market changes, and identify your best sellers and focus your resources on them to minimize your inventory.
New business opportunities
Spot trends, market gaps, and missing items in your own assortments to create top-selling collections for your brand.
Strong brand image
Manage your retail distribution worldwide and eliminate price discrepancies across marketplaces.
Agility in responding to market fluctuations
Handle market shocks such as supply chain issues and price inflation swiftly by studying your competitors' moves.
Understanding Retviews, fashion competitive intelligence and benchmarking
Why is fashion benchmarking so important?
To avoid missing out on emerging trends and business opportunities, fashion companies need to keep track of new product releases on the market. Fashion benchmarking enables you to evaluate the strengths and weaknesses of your collections, and the comparative advantages of rival brands.
Having visibility makes it possible to adjust collections and implement relevant best practices. By identifying and comparing key market metrics that highlight differences between your product assortment and that of your competitors, you can differentiate your offering.
Why should companies automate fashion benchmarking?
Automated competitive analysis solutions give you the real-time visibility you need to release the most successful collections at the right price. By using them, you can:
Monitor your competition in a more time- and cost-efficient manner
Improve product mixes and collection planning with real-time data.
Develop the perfect pricing model.
Increase speed in producing and deliver styles on trend.
Improve cash flow by cutting costs and reducing unsold stock.
Increase your profitability by producing what consumers want.
What are the advantages of data-driven, automated fashion benchmarking?
Fashion competitive intelligence platforms enables companies to process real-time data from across the fashion landscape and glean valuable insights regarding specific products and collections.
It allows you to gather and process publicly available market data sets, and gain insights into competitor pricing and discounts. You can get an overview of the global apparel market with just one click.
This allows you to quickly assess your own product assortment and develop a winning go-to market strategy.
How can you best position your brand for growth with automated benchmarking?
Your brand's unique value proposition sets you apart from your competitors. You need to appeal to your customer demographic by aligning your collections with their needs.
By analyzing your customers' purchasing data, you can better understand their needs and adjust your offerings accordingly.Once consumers recognize the value of your product offering more than that of your rival brands, it will be easier to win them over. This will create growth opportunities, increase revenue, and improve overall profitability.
How can you improve your pricing strategy with automated benchmarking?
When you use competitive intelligence platforms to check on other rival brand's collections, you will be informed of the price structure of any product or category sold by them.
Automated benchmarking makes it possible for you to track price changes in real time, and even compare the prices of similar products.
This allows you to determine your own brand's positioning. For global brands dealing with price inflation, data-based benchmarking makes it simpler for them to set competitive prices for international markets.
Connect your processes with Lectra solutions